To make aloe vera soap it is not necessary to use caustic soda. Although this component was used a lot of time in the elaboration of this type of products, today there are several alternatives to do without its use. In fact, there are soft formulas that give an "extra" benefit.
Caustic soda can cause side effects on the skin, especially those that have some kind of sensitivity. It is a corrosive ingredient that has been associated with problems like dermatitis, dryness and dandruff In fact, in many companies they have stopped using it.
Why is it better to avoid soaps with caustic soda?
Several presentations of conventional soaps sold in supermarkets contain caustic soda among its components. Although they do not cause side effects in all types of skins, Some people have negative reactions after using them. For what reason?
Caustic soda, also called sodium hydroxide, is an aggressive component that It can cause irritation when it comes in contact with the skin. It is present in soaps and many other beauty products, although in relatively low concentrations.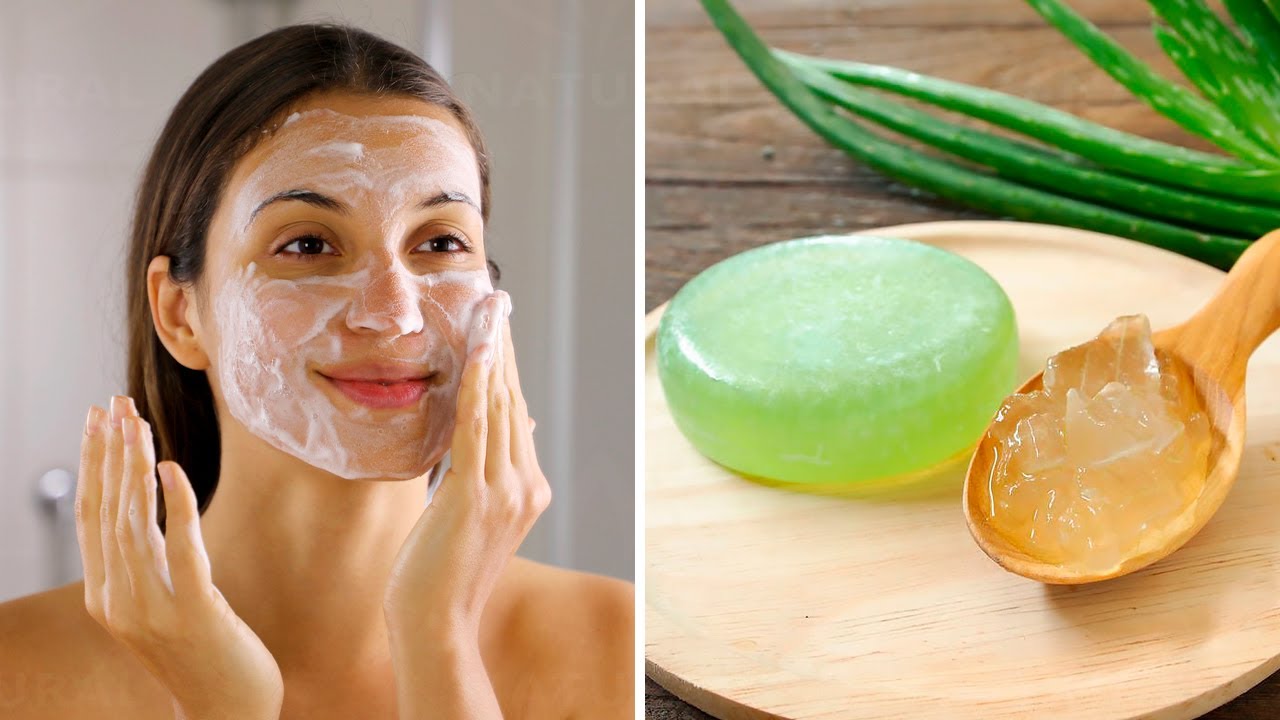 You may be interested: Are cleaning chemicals harmful?
However, entities such as The National Institute of Occupational Safety and Health, Advises consumers to avoid all contact between this component and the skin and eyes. In addition, the Centers for Disease Control and Prevention (CDC) reports that:
"Skin contact with sodium hydroxide can cause severe burns with deep ulcerations. Pain and irritation are evident in 3 minutes, but contact with diluted solutions may not cause symptoms for several hours. Solutions as weak as 0.12% have been shown to destroy healthy skin cells in an hour. "
Now, in order not to create unnecessary alerts, it is important to make clear that, in the case of soaps and cosmetics, Manufacturers often use safe amounts of caustic soda combined with fat or "extra oil", which prevents the skin from burning accidentally.
As long as the soap making process has been successful and correct, sodium hydroxide will not be dangerous. Despite this, its constant use can affect minor problems of dryness or irritation; If so, it is best to avoid it and look for other options.
Do not miss: 6 uses of the soap that you did not know and that you will love
Make aloe vera soap without caustic soda
Do you want to make sure you use a caustic soda-free soap? Then learn to make aloe vera soap with natural ingredients. While there are already commercial presentations free of this component, Making a handmade soap has interesting benefits that are worth taking advantage of.
Being made with aloe vera, this product nourishes the skin and helps prevent signs of sensitivity such as itching and irritation. Its formula is very soft and can be applied even in the most sensitive skin types. In addition, it contains other ingredients that nourish, moisturize and soften the skin.
Ingredients
2 tablets of glycerin soap (250 g).
1 cup of aloe vera gel (200 g).
4 tablespoons of honey (60 g).
5 tablespoons of olive oil (100 ml).
Grated lemon or drops of essential oil.
Instructions for making aloe vera soap
First, get a container resistant to the heat of the microwave. Then, introduce the glycerin soap bars and put them to melt. It may take around 4 minutes.
Later, when the soap is melted, add the tablespoons of honey, lemon zest or drops of essential oil and aloe vera pulp.
Besides, heat the olive oil until it is warm. It prevents it from overheating because it can lose its properties.
Having done this last, mix all the ingredients with the help of a hand mixer, at low power. In the end, you should get a bright, pleasant-smelling blend.
When you get it, pour the contents into several molds for soap or a clean plastic container.
To finish, put the soap in the refrigerator for a day, until it solidifies well. If you did it on a large mold, cut several pills for easy use.
Do you dare to make this natural soap at home? As you can see, Making your own aloe vera soap is very simple and will not take much time. In the end, you will have an ideal product to take care of your skin. In addition, you will make sure it does not contain caustic soda. Test it!
What are the benefits of aloe vera for the skin
Aloe vera, also known as aloe vera, is a highly prized plant used in beauty due to the large number of properties it offers to care for the skin and improve its appearance. Astringent, moisturizing, regenerating, renewing, rejuvenating, antibacterial… these are some of the greatest powers of aloe vera that we can benefit from to show off a revitalized and flawless skin.
Among the many benefits of aloe vera for the skin, we highlight its performance as a powerful astringent. It offers a deep cleansing of the skin from its deepest layers, which favors the disobeying of the pores and the removal of all the dirt that causes the appearance of impurities in the dermis.
Take advantage of its cleansing properties by acquiring an aloe vera gel or try to make yourself homemade aloe vera soap by consulting our article.
Aloe vera is also a perfect moisturizer for the skin. If you notice that your skin is dry and needs more moisture, turn to aloe vera in either cream or gel format and you'll start to notice the difference. Your skin will look much fresher, lozano and attractive. To benefit from effective and economical hydration at the same time, visit this article in which we tell you how to make a face mask with aloe vera.
Do you need an effective anti-aging solution? Aloe vera stands out for the ability to regenerate skin tissues, stimulating and strengthening collagen and elastin fibers, making it excellent for slowing skin aging, attenuating wrinkles and preventing the appearance of new ones.
The antibacterial properties of aloe vera make it a very good natural ingredient for the treatment of acne. It is beneficial for reducing skin irritation and inflammation, blisters, scars and all signs of acne that appear on the skin. In fact, aloe vera face masks work well when we want to avoid the formation of pimples, pimples and blackheads.
In summer, sunburn on the skin is a recurring problem and aloe vera is very beneficial for soothing discomfort and relieving redness. In addition, as noted above, it allows the skin to regain its natural state by regenerating the affected part. In this article from aComo we tell you how to use the abyss for burns, you will discover a few simple steps that will help you to soothe the skin.
Another of the most precious benefits of aloe vera is that it is useful for preventing and decreasing unsightly stretch marks. It is great for providing elasticity, firmness and nourishing the skin in depth.
Aloe vera can be used both to moisturize the skin, as we have already mentioned, and to moisturize dry hair or lips; it also works great for fighting dandruff and for removing stretch marks. In this article you can consult the beauty tips with aloe vera with which you will feel more beautiful.
This therapeutic plant is not only excellent for skin care, but is also a very beneficial natural remedy for the health and beauty of hair and nails. We invite you to discover all its properties and the best treatments by consulting the articles: How to use aloe vera in the hair and Properties of aloe vera for nails.